CANDO RAIL SERVICES OPENS CANDO STURGEON TERMINAL
Provides additional rail capacity to Alberta's Industrial Heartland
STURGEON COUNTY, Alberta, October 1, 2020 – Cando Rail Services has announced the opening of the Cando Sturgeon Terminal in Sturgeon County, Alberta. Cando Sturgeon Terminal provides additional rail capacity to Alberta's Industrial Heartland and expands Cando's national network. With the completion of Phase 1, Cando Sturgeon Terminal can store up to 1,900 railcars utilizing a loop-track system.
Cando Sturgeon Terminal is centrally located in Alberta's Industrial Heartland directly west of the CN Beamer Spur and serviced by CN. The terminal offers services seven days per week for railcar staging including unit-train storage capability, for short or long-term, loaded or empty railcars, as well as various value-added services.
Sturgeon County, the provincial government, local stakeholders and CN have been very supportive of the project.
"This is a very exciting day for Cando Rail Services and our partners. The project has been an extremely collaborative effort and we would like to sincerely thank everyone that has played a role. Now we look forward to providing access to increased transportation and logistics solutions at this key industrial hub of the country."
– Brian Cornick, President & CEO, Cando Rail Services
"We are pleased to have a strategic partnership with Cando at its Sturgeon Terminal. Increasing rail capacity in key markets such as the Alberta Industrial Heartland enables strong and reliable supply chains, reiterating our role as an essential transportation provider to the economy, to our customers and to the communities we serve. Collaborative investments in rail infrastructure also increase opportunities for Canadian businesses, promoting economic recovery and growth."
-JJ Ruest, President & CEO, CN
"We are thrilled Cando Rail Services chose to invest in Sturgeon County. Companies in Alberta's Industrial Heartland rely on high quality rail infrastructure to access global markets. The Cando Sturgeon Terminal is a tremendous benefit to Sturgeon County and will improve supply chain management throughout the Heartland."
– Alanna Hnatiw, Mayor, Sturgeon County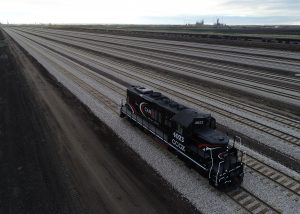 Through the National Trade Corridors Fund the federal government is also investing up to $15 million in not only the project but the overall business growth in the Alberta Heartland which serves many industry leading companies.
There will be an official grand opening of Cando Sturgeon Terminal in the spring of 2021.
ABOUT CANDO RAIL SERVICES
Cando Rail Services provides specialized rail support service at more than 40 locations across North America, handling 1.14 million railcars a year and moving $29 billion of product for its customers. Cando is the crucial linchpin between its industrial customers and the Class 1 railways, facilitating the safe, efficient movement of products across the entire supply chain. Working with customers to develop customized, on-site solutions for complex jobs, Cando has the ability to design, build, operate and finance rail terminals and transload facilities. Learn more.
Media Contact
Julie Pomehichuk
Director, Marketing & Communications
media@candorail.com
Phone: 204-725-5174