CANDO RAIL SERVICES NAMES STEVE BROMLEY CHIEF COMMERCIAL OFFICER
Realigns Infrastructure Development and Service Delivery Teams
Realignment positions the company for continued growth
BRANDON, MB—January 19, 2021—Cando Rail Services has named Steve Bromley to the newly created role of Chief Commercial Officer, effective immediately. He will lead Cando's Infrastructure Development, Service Delivery and Business Development functions after previously having held the position of Vice President Commercial and Service Delivery.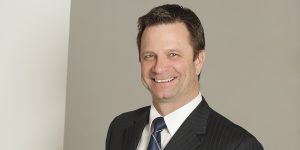 The move reflects the company's continued focus on delivering innovative solutions to respond to the evolving needs of shippers and the rail industry. The company has experienced several strategic growth changes over the past 40 years, from engineering to site-level switching services to creating a national rail terminal footprint.
"Steve has been instrumental in growing our rail services offering while ensuring that we service our clients in a safe and profitable manner. His new role allows us to continue providing the high level of rail service and safety we are known for, while also expanding our rail terminal network," says Brian Cornick, Cando's President & CEO.
Bromley has been a key member of Cando's leadership team since joining the company in 2013. He has almost 40 years of operations and marketing experience in the North American rail industry, including 25 years as an executive first with CP and then with Cando.
"Steve's entire career has set him up to excel in this role. He has demonstrated his leadership abilities in many roles over his career and brings a strong commitment to our company and an unparalleled understanding of the evolving rail industry which will allow us to better serve our clients for many years to come," says Cornick.
-30-
ABOUT CANDO RAIL SERVICES
Cando Rail Services provides rail services and infrastructure solutions at more than 40 locations across North America. Cando is the crucial linchpin between its industrial customers and the Class 1 railways, facilitating the safe, efficient movement of products across the entire supply chain. Working with customers to develop customized, on-site solutions for complex jobs, Cando has the ability to design, build, operate and finance multi-purpose rail terminals and transload facilities.
Media Contact
Julie Pomehichuk
Director, Marketing & Communications
media@candorail.com
Phone: 204-725-5174