Canada's leading railcar staging/storage provider expands
Already Canada's largest private railcar storage and staging provider, Cando added to its national capacity this year by creating a new rail terminal in Kamloops and expanding its Winnipeg rail yard.
The Winnipeg expansion occurred on the Central Manitoba Railway (CEMR), a Cando subsidiary. It added in excess of 1,000 new car storage spots and rehabbed an additional 700 railcar spots at the Pine Falls subdivision. Now, these spots mostly serve as car storage for large customers with longer term storage needs. However, this terminal also has significant capacity for staging with daily scheduled interchange with Canadian National Railway (CN) and Canadian Pacific Railway (CP) and access to the Burlington Northern Santa Fe (BNSF) system.
Open for business in April 2017, the new Kamloops rail terminal is directly connected to the CP mainline and within inter-switch limits from CN track; it can stage 350 railcars on-demand, and more spots will be added in the future as demand in this area matures. The 79-acre rail terminal will also serve as Cando's B.C. headquarters as it expands into the province to serve the forestry, mining and petroleum industries in particular.
At both facilities, and across Canada, Cando is perfectly poised to provide the kind of on-demand staging and accompanying services that allow customers to pull cars out and quickly put them to work moving freight.
More than 5,000 spots
Cando offers more than 5,000 spots that provide cost-effective storage and staging solutions across Canada. A facility like Kamloops offers both storage and staging. It might have some tracks that are spoken for by storage customers but reserves capacity for the short notice spot demand of its customers.  
"Staging is all about dynamic and responsive service," says Lee Jebb, Cando's VP of Rail Operations. "Our yards are configured and connected to our Class 1 partners to allow for maximum flexibility. When combined with our well-resourced switching operations, we promise consistent, timely and responsive interchange."
Storage typically involves a set number of spaces that are purchased by a customer for a longer term. Staging is typically a short-term commitment based on supply and demand — more like a "pit stop."
Cando's market response time is the biggest differentiating factor from its competition when it comes to staging. Customers who stage their cars in Cando's yards can easily deal with on-demand commodity sales since the company provides speedy access to their fleets.
"Cando provides the flexibility to move cars in 24 to 72 hours in most situations," says Mac Macdonald, Cando's National Manager of Railcar Storage. "A customer that sells commodities might make a spot sale and need their assets back on the road and moving, and we have the advantage of getting things online fast."
Expanding storage options across the country
In February 2017, Cando expanded its car storage in Winnipeg near its existing railcar and locomotive workshop and short line headquarters (the Central Manitoba Railway).
"This deal has a significant impact on our overall footprint.  We now have the capacity to store and service a customer's entire fleet. " says Jay Cranney, GM of CEMR. With 19 tracks and in excess of 70 acres in east Winnipeg, the yard will greatly enhance Cando's ability to serve customers in the Prairies and northwestern Ontario, not just in car storage, but also in ancillary services such as railcar and fleet maintenance and repair at the on-site AAR Certified railcar repair shop.
"Now our existing and future customers can send us 100-car unit trains to be modified, repaired, cleaned, or simply placed into storage in order to address and facilitate their our supply chains," says Cranney.
In addition to helping industrial customers, Cando's large railcar storage footprint will also help the company serve the Class 1 railways and their customers.
"CN and CP want to be as efficient as possible. They want to be able to move products from origin to destination with minimum dwell time while maintaining fluidity. Storage can be a burden we can take off their shoulders to help keep things running smoothly," said Macdonald.
Offering premium railcar storage and staging
Cando is Canada's largest private railcar storage and staging provider for a reason. Cando's premium railcar storage services offer:
Optional value-added services such as switching (long-term or short-term, loaded or empty railcars), certified inspections and railcar repair

Facilities strategically positioned on, or near, key rail transportation corridors

Permission to run operations on CN and CP tracks and access to major switching yards

24 to 72-hour car retrieval time from centrally-located facilities for ease of access

Storage capabilities for both dangerous and non-dangerous commodities

Access to AAR certified car repair shop and team tracks for transloading at several locations

Safe, cost-effective and reliable railcar storage and switching services for long-term or short-term, loaded or empty railcars, across Canada

Ability to design, build, finance and operate a cost-effective dedicated car storage facility under a long-term partnership

Ability for a customer to have one railcar storage provider for its entire fleet
Storing cars from coast to coast
In addition to the two locations mentioned above, Cando stores cars in a number of locations all over Canada.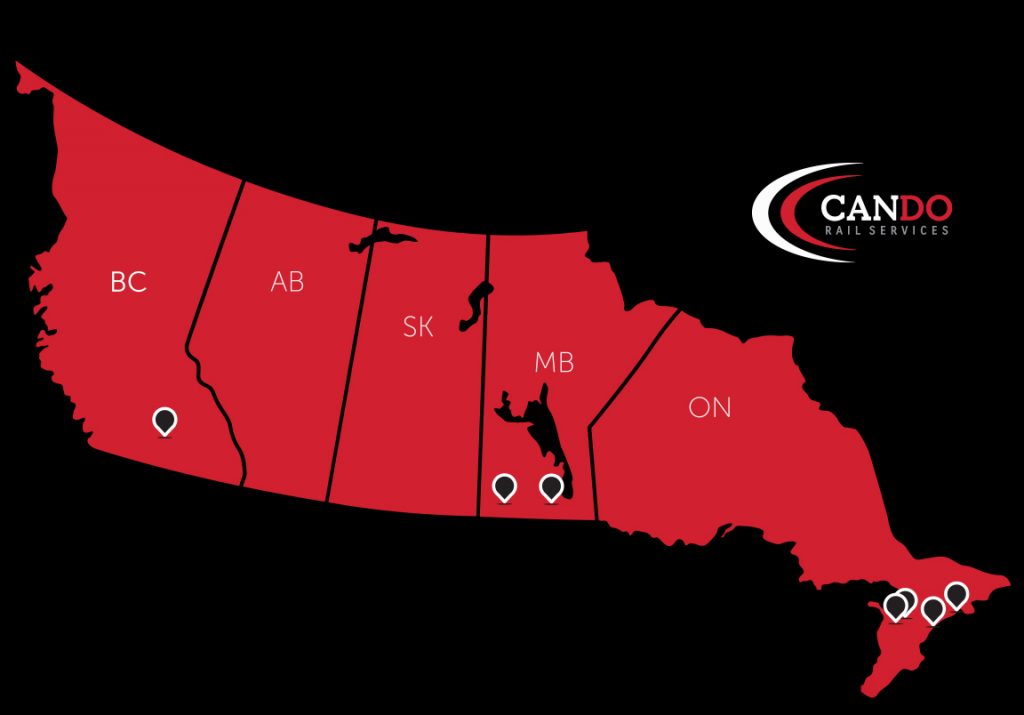 With more than 5,000 spots located in strategically located yards and dedicated facilities across Canada, knowledgeable staff, and strong working relationships with both Class 1 railways, Cando can provide premium storage for any fleet.
Media Contact
Julie Pomehichuk
Director, Marketing & Communications
media@candorail.com
Phone: 204-725-5174