Cando and CEMR announce Pine Falls Subdivision Enhancement Project
Project supported by NTCF to upgrade almost 9 miles of shortline track near Winnipeg
On July 31, representatives from Cando and CEMR came together with MP MaryAnn Mihychuk (Kildonan St.Paul) and RM of East St. Paul Mayor, Shelley Hart, to announce a project that invests in Canada's sovereign trade corridors and improves speed and reliability of trade, safety, and supporting shortline railway operations in Manitoba.
The Pine Falls Subdivision Enhancement Project is an 8.8-mile infrastructure upgrade of the existing CEMR Pine Falls subdivision, running between CNs Symington Yard (Beach Junction) to the Imperial Oil terminal at Birds Hill. Cando applied and secured a portion of the project financing through the National Trade Corridors Fund (NTCF).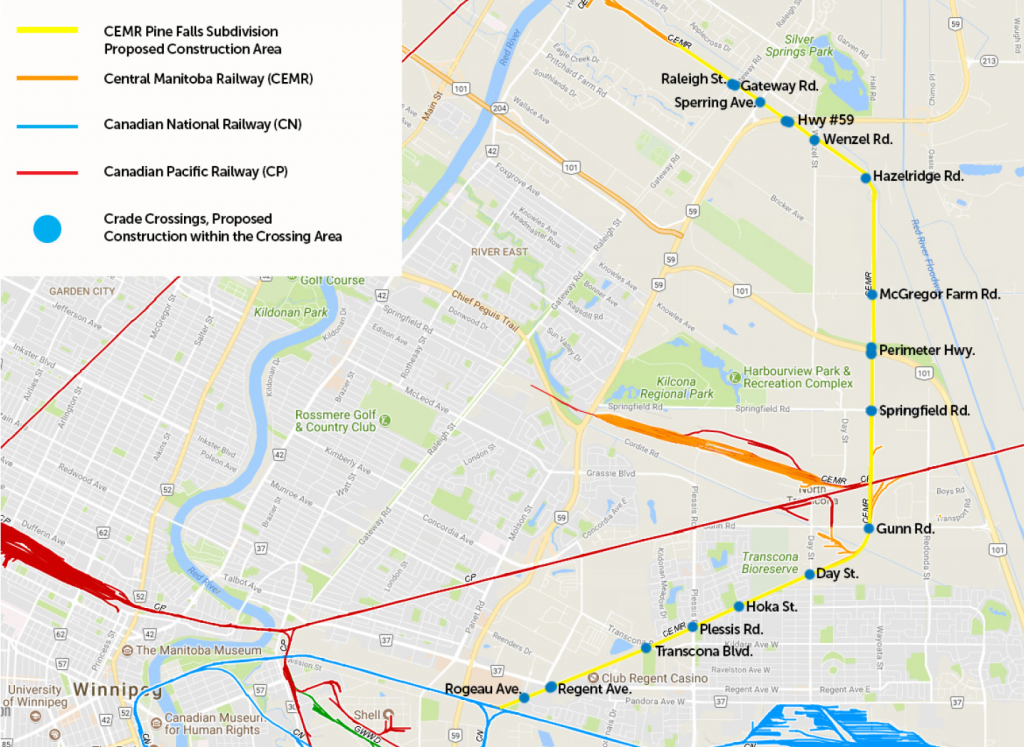 Cando and CEMR proposed this project because the company knows from years of experience that shortline railways play a critical and strategic role in the Canadian transportation system, and it is worth investing in the long-term sustainability of the line.
"We plan to significantly improve the track infrastructure including rail, ties, grade and drainage to support heavy axle loading, increased track speeds and maintenance sustainability," says Jay Cranney, general manager of CEMR and a key contributor to the proposal. "We are building a better railway for the next 30 years."
These infrastructure improvements have several measurable benefits, including…
Lengthening the life of the railways' operational assets for another 30-40 years ensuring 

continued operations of a key Manitoba transportation link.
Expanding single carload limit capacity from 1920's era "263,000 lb" loading to the 

modern industry standard heavy axle loading (286,000 lb).
Improving quality of the track infrastructure to modern new build industry 

standards addressing safety risk management considerations associated with hauling dangerous goods on dated infrastructure through urban neighborhoods.

Increasing track speeds to facilitate a reduction in time of crossing occupancy.

Reducing maintenance costs and enhanced reliability.

Facilitating haulage growth on the line.
Lee Jebb, Cando's vice president, says the company is pleased to partner with the federal government on this very important project.
"For our customers and the communities we operate in, Cando's matching $5.7 million investment is reflective of our commitment to an operationally sustainable, safe and competitive link to the North American rail system," says Jebb.
Starting in Fall 2018, Cando will be installing new railway ties, modern rail and other track materials, making drainage, grade and ballast improvements, adding new mainline switches and crossing improvements to make the track suitable for heavy axle loading. The project is anticipated to take 18 months to complete.
Read Transport Canada's news release here.
Media Contact
Julie Pomehichuk
Director, Marketing & Communications
media@candorail.com
Phone: 204-725-5174