Published on: May 16, 2017
Continuously growing our operational capacity
Tucked away in the north end of Transcona, down a gravel road past several other industrial operations, is the Cando Rail Services Winnipeg Mechanical Facility. The sprawling 38-acre grounds, which also serve as headquarters for the company's local short line operation (Central Manitoba Railway), are peppered with several large buildings, 4.5 miles of yard track that sit full of railcars and locomotives and specialized railcar loading equipment.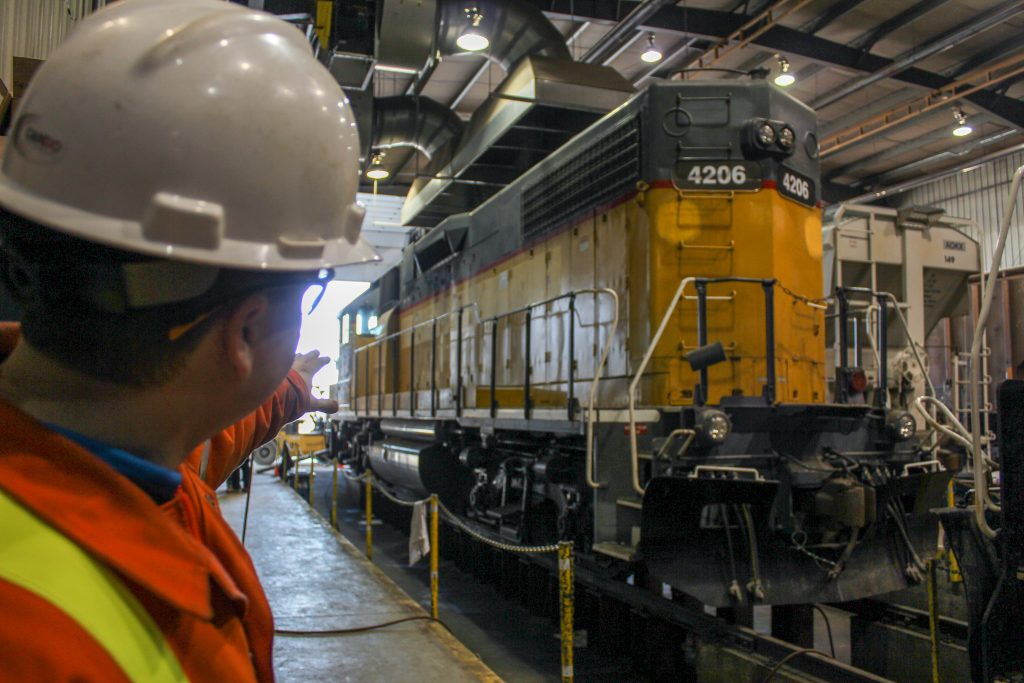 THE LIFE OF A LOCOMOTIVE
On an average day at Cando, three or four locomotives are being repaired or completely restored, and three to six railcars are getting serviced, all under one roof. Over the past few years, it's been one of the fastest growing operations of its kind in North America, serving as the hub for Cando's fleet of 50 locomotives. That's one of the largest privately held locomotive fleets in Canada, more than double the size it was five years ago.
James Mutcher, Manager of Mechanical Services for Cando Rail Services, can give a progress report on every job in the shop.
On this particular day, Mutcher points out a locomotive that's having an engine change out. It will take between 300 and 400 hours, and several skill sets, to do the work necessary to get it back on the road, but Mutcher says it's a fun challenge due to the complexity, and the fact that they don't get to do jobs like that very often.
"We purchased this one in the US. We've overhauled it, and we're just getting it ready to paint," says Mutcher, gesturing to a different locomotive. "We send them out to different sites expecting that they won't need to come back for 10 years."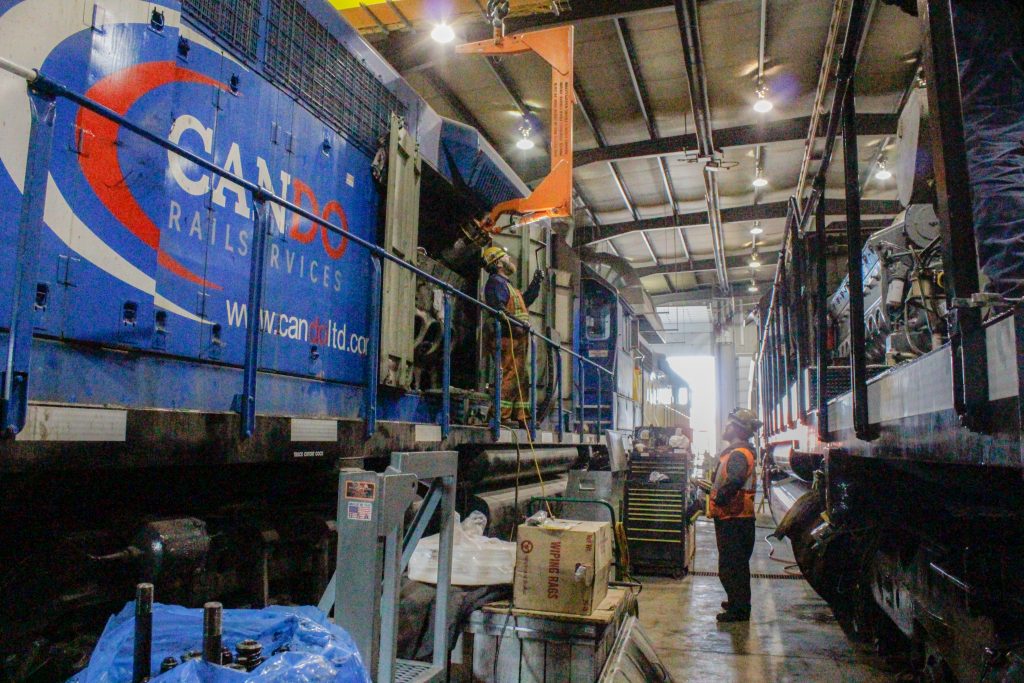 HOW CANDO'S FLEET BEGAN
It all started in the 1990s, when the company began growing its industrial rail switching operations for customers across the country. This growth meant purchasing more locomotives, a massive investment at about $500,000 each (depending on if they are purchased or leased). As a side effect of the growth of this side of the business, the locomotive maintenance and repair side of operations was born, really taking off in the last decade.
"With the contracts that we've had, and the corporate direction we've gone in, we've rebuilt all of the locomotives within the last five years, but two or three," says Mutcher. "On maintenance inspections, we shoot to get the railcars in and out in one day. Locomotive overhauls are more like three months."
Now, a team of welders, mechanics, and engineers at Cando's Winnipeg Mechanical Facility are responsible seven days a week for all of Cando's locomotive rebuilds and repairs. The facility also offers AAR certified railcar repair and railcar cleaning.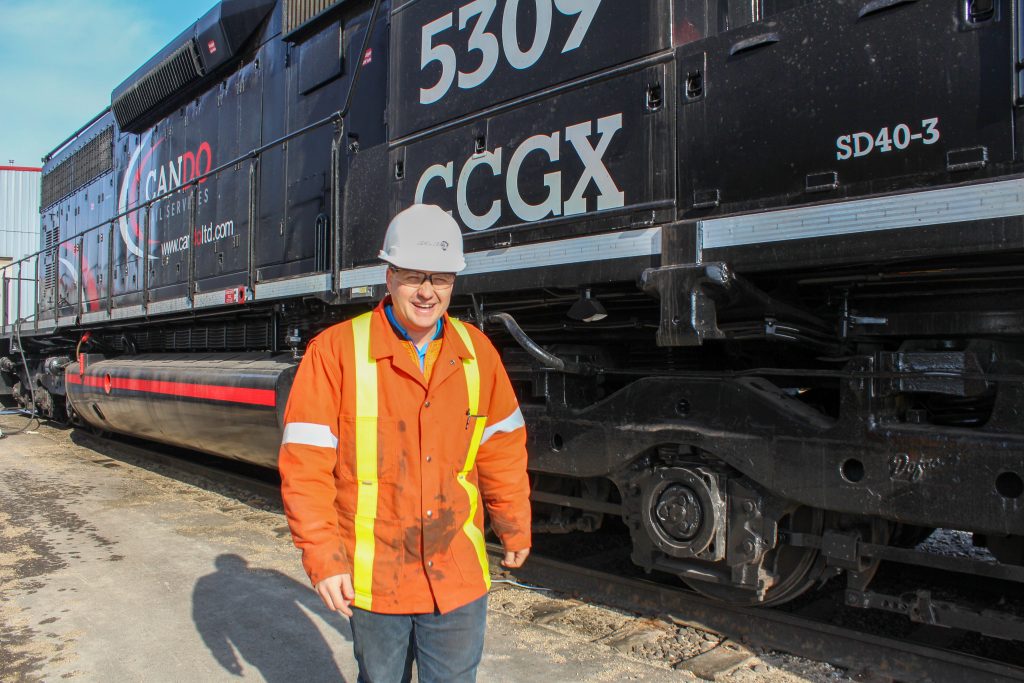 "LOCOMOTIVES ARE LIKE AIRCRAFTS"
Doug Phillips is the Asset Manager at Cando, and he's been with the company since its third year in business. He oversees thousands of pieces of inventory, from small tools to large machinery, and he says "the locomotives are only a piece of our puzzle."
"Locomotives are a bit like aircraft, they're designed to be continuously rebuilt," says Phillips. "Some of the original parts were built in the mid 1950s, and are still in use today. It's almost like a form of recycling."
THE ROLE OF CANDO'S LOCOMOTIVES IN THE RAIL NETWORK
Locomotives are the driving forces that allow Cando to increase efficiency while performing rail switching and unit train operations at mines, mills and refineries across North America, in addition to operating three short line railways.
"We provide equipment to move all the railcars within a customer's operations," says Phillips. "Part of that is providing a locomotive fleet that we operate and maintain."
While the facility in Winnipeg is the central hub for repair, Cando also provides mobile repairs and service. To be able to offer fast mechanical service in the case of any problems out in the field, remote mechanics are hired so that certain repairs can be done outside the shop, saving the customer time, and increasing efficiency.
To be prepared, Cando has a warehouse separate from the main facility that houses $1.5 million worth of parts that go to overhaul projects in the shop and get shipped out to the field for emergencies. Mutcher says they can usually get a part out in 12 to 24 hours when necessary.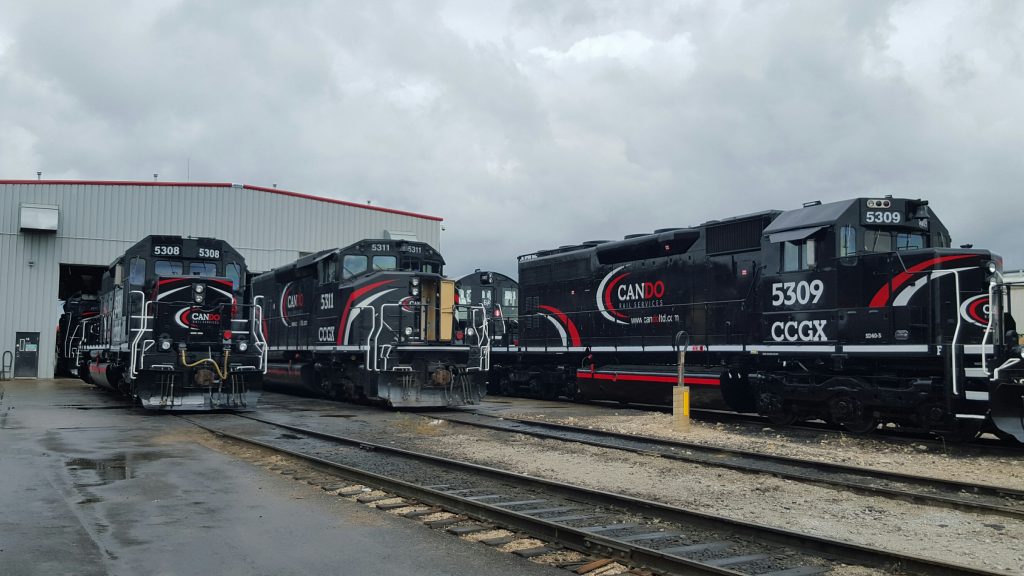 THE FINAL TOUCH
The final step of the rebuilding process for Cando is painting its locomotives with the company's signature slick black colour with white and red accents, and branding it with the new Cando logo that was redesigned in 2015. The painting process allows each acquired locomotive to be reborn as a Cando locomotive that will pull customer railcars at one of the more than 25 industrial worksites Cando operates at across North America.
"We put care and pride into building what we do," says Mutcher. "It's a lot of hard work to get it to this point sometimes, so seeing it finished and painted is nice."
Phillips says people in the industry comment on how sharp the locomotives look — a  sure sign that Cando's sleek black locomotives are getting noticed.
"Branding is important to us. I think it was always something we were proud of, but it's really come to the forefront with the name change and new logo."
While Cando has changed a lot since its humble beginnings in 1978, its impressive locomotive fleet is only one part of what is driving Cando forward into the future.
Media Inquiries
Julie Pomehichuk
Director, Marketing & Communications
media@candorail.com
Phone: 204-725-5174