Cando Rail & Terminals Names Lisa Smith AVP Safety, Environmental and Regulatory
New role underscores the company's unwavering commitment to safety and the environment
BRANDON, MB—March 29, 2022—Cando Rail & Terminals has named Lisa Smith to the newly created role of Assistant Vice President of Safety, Environmental and Regulatory effective immediately. She will be responsible for the execution and compliance of Cando's integrated safety, environmental, and regulatory strategies and programs, after previously having held the position of Director, Corporate Safety.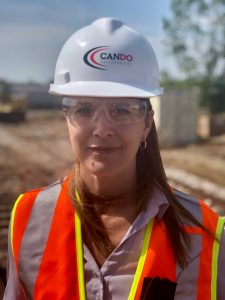 The move underscores the company's unwavering commitment to delivering safe solutions, enhancing its award-winning safety culture, and protecting the environment and communities it operates in.
"We are committed to protecting our people, property, communities, and the environment from any adverse effects related to our operations. Lisa has led many initiatives that have had tremendous positive impacts on Cando's safety performance and culture. Her leadership and mentorship abilities have been instrumental in ensuring safety is the top priority at Cando," says Brian Cornick, President & CEO, Cando Rail & Terminals.
Smith has been an integral part of the Corporate Safety Team since joining Cando as a Safety Officer in 2016. With 25 years of railway operations, management and safety experience, Smithhas produced documentable safety achievements as a team leader her entire career. Prior to joining Cando in 2016, she was a conductor, locomotive engineer, and manager for CP, where she gained strong operational and safety experience.
"Lisa continues to enhance Cando's safety programs and culture. A culture that keeps our employees safe, protects the environment and communities we operate in, and is focused on compliance with applicable government regulations and internal standards and values. She is also bringing her knowledge and experience to the Cando executive table as a strategic and tactical business partner, providing counsel, and executing on all safety related initiatives. With her unique combination of operations and management experience, we are extremely lucky to have her leading our Corporate Safety Team," says Cornick.
Smith is an Accredited Safety Auditor, has been trained in modern safety management practices, and is a valuable member of the RAC Safety Culture Committee.
-30-
ABOUT CANDO RAIL & TERMINALS
Cando Rail & Terminals is Canada's leading provider of specialized rail operating services that allow industrial shippers to optimize their supply chains and connect to Class 1 railways by leveraging Cando's operating capabilities and network of owned multi-purpose rail terminals. The company provides a wide range of rail services including short line operations, industrial switching, material handling, terminal & transload services, railcar staging, train assembly, and related services. Fully embedded in their customers' supply chain, Cando Rail & Terminals ensure their customers' products get to where they need them, when they want them.
Media Contact
Julie Pomehichuk
Director, Marketing & Communications
media@candorail.com
Phone: 204-725-5174