Award requires impeccable safety record
Imperial Oil's Canada Fuels Operations division recently gave Cando Rail Services the Silver Award for its excellent safety record at the IOL Strathcona refinery. The annual awards were given out at Imperial's Western Contractor Safety Forum and several Cando supervisors and staff attended.
To be eligible to be considered for the Silver Award, contractors must score between 80 and 90 per cent on the IOL safety scorecard. The contractor's safety statistics must also be impeccable. Cando's loss time incident rate (LTIR) and total recordable incident rate (TRIR) are both zero at IOL
Strathcona refinery, with over 80,000 exposure hours in 2016. A total of 23,460 railcars were loaded at the refinery last year and each of these railcars was handled multiple times by Cando, from their empty arrival to when they were fully loaded and handed off to either CP or CN.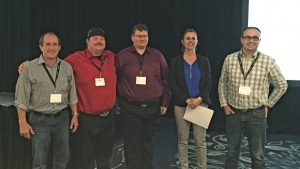 With over 200 contractors working for the Canada Fuel Operations division, gold, silver and bronze awards are given to contractors in both the west and the east each year. IOL's safety performance is among the best in the Canadian energy industry and the company sets rigorous operating standards for itself and its contractors.
"Congratulations on a well-deserved award," said Lorna Poffenroth, Contractor Safety Advisor – Canada Fuels Operations for Imperial Oil, in an email to Cando's management. "You have worked very hard this past year on some key deliverables and this award recognizes this work effort. Each of your team members played an important part in this. It is very inspiring to see your team members' progress and their buy-in to date."
Media Contact
Julie Pomehichuk
Director, Marketing & Communications
media@candorail.com
Phone: 204-725-5174