CN and Cando present to Transport Canada
When people think of the rail industry, they tend to think of the big Class 1 railways first. That's fitting. In Canada, CN and CP dominate the landscape with massive rail networks that connect ports to cities, industry freight to customers and much more.
Connecting a country by rail is only the tip of the iceberg when it comes to Class 1 railway service. CN is vital to the North American economy as it moves about $250 billion worth of goods every year, but it couldn't do that without the help of companies such as Cando Rail Services.
"Partnering with rail service suppliers like Cando and working together to improve the supply chain is about bringing a solution to the table that creates value for our customers so that they compete more effectively in their markets," says Fiona Murray, Vice President, Industrial Products at CN.
Murray recently joined Cando representatives in Ottawa to make a presentation to Transport Canada. Organized by the Railway Association of Canada in May 2017, the workshop-style presentation gave an insider's look at the railway industry and how rail companies and their clients cooperate to help make the whole supply chain more efficient. To drive the point home, Murray and Cando team members were joined by a representative of West Fraser, and the three companies showcased how they worked together to move timber through West Fraser's facility in Hinton, Alberta.
"That was part of the story, having three parts of the supply chain together. We were trying to get across the importance of communication, the complexity of what we do and how the first mile and last mile feeds into the bigger Class 1 railways," said Murray.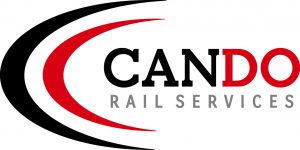 CN has granted Cando running rights on its tracks at multiple locations across the country, giving Cando the ability to connect clients and multiple local facilities to the main line.
"The customers benefit from the expertise that both CN and Cando bring," she said. "What Cando does by being a small, more flexible player is not always something that we can do. In the right locations, teaming up can be a real value driver for both CN and Cando and, most importantly, for the customer.  We have had a very successful partnership in many places."
CN and Cando have that kind of collaboration in Hinton, Alberta, where Cando does industrial switching for West Fraser Timber. Cando also has the running rights on the CN line there, which allows them to assemble trains and have them ready for CN to hook and haul away.
"CN does a great job of moving freight smoothly over long distances, but sometimes the entire system can benefit from a local operational focus," said Cando CEO Brian Cornick. "For Cando, that's our bread and butter."
"What we have learned as a first mile last mile specialist is that collaboration with our long-haul partners is absolutely critical to meeting our shared customer's needs. We are very proud of what we have been able to accomplish by working together with CN."
Media Contact
Julie Pomehichuk
Director, Marketing & Communications
media@candorail.com
Phone: 204-725-5174