National network, responsive solution
With more than 5,000 railcar spots located in yards and dedicated facilities across Canada, Cando can store any type and size of fleet.
Cando has close working relationships with Class 1 railways and daily interchange into major switching yards. As a result, we offer a highly responsive railcar storage solution for customers with long- or short-term storage and staging requirements.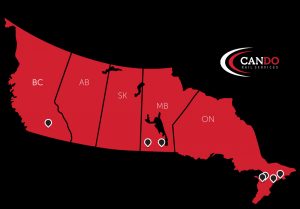 Key benefits:
Safe, cost-effective and reliable railcar storage, staging and switching services for long-term or short-term, loaded or empty railcars.
Access to AAR certified car repair shop and team tracks for transload at several locations
Ability to design, build, finance and operate a cost-effective dedicated car storage facility under a long-term partnership
Ability for a customer to have on railcar storage provider for its entire fleet.