Published on: March 26, 2018
Harry Peters, one of Cando's original employees, retires after almost 40 years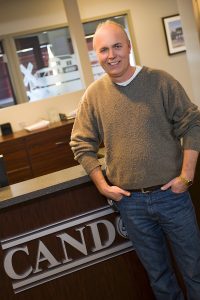 There's a particular kind of grit that comes from spending your summers as a teenager ripping up rail tracks 80 to 100 hours a week. As one of Cando's first employees, Harry Peters helped build that kind of fortitude into the bones of the company.
Harry is the younger brother of Gord Peters, co-founder of Cando. Rick Hammond, the other founder of Cando, met Harry in 1978 when Cando Contracting Ltd. was bidding on a big rail abandonment contract (80 miles) in southern Manitoba. When they won the contract, they put Harry on the work crew.
"He was maybe 140 pounds soaking wet and he did great. He was a tough kid, learned quickly, and did what was required," says Hammond. "About a month or so later we made him foreman. At 15 years old, he was managing a crew of seven or eight guys."
According to Hammond, Candos' goal was to dismantle a mile of track a working day and at that time there was nobody who was even coming close to that amount. Four months after startup, and after immense effort, that goal was met and beat in October with 28 miles of track and 31 miles of other track materials (tie plates, spikes, anchors, splice bolts, washers, bolts, etc.) complete.
"He was a focused and a hard worker and still is to this day," says Hammond. "We never looked at him as a kid."
He started as a labourer and then very quickly became a foreman, but Peters has had many other jobs throughout his career with Cando. He's been a truck driver, abandonment steel supervisor, project manager, sales manager and most recently — a special project manager for both Canada and the US.
Peters says in the beginning, Cando would take any job they could get.
"Gord and Rick instilled that we could do anything, and they were always right there with you trying," says Harry. "It's a method of thinking and problem solving that gets ingrained in you."
Harry recalls when they tore down an Iron Ore dock in Thunder Bay. It was a project "most people wouldn't have touched with a 10-foot pole." Even though Cando wasn't a bridge contracting company, he says they managed to work through red tape to make it happen.
"I think that's how my department got called special projects…whatever it was, it would come to us and we'd figure out how to tear it out or build it," says Peters.
Peters says he still sees those original "can do" ethics: problem-solving, working hard, being safe and getting the job done the right way (no matter what it takes). This way of doing things is probably a big factor in why the company has grown 10 per cent a year since it began.
"We started with nothing; there was maybe three or four of us. Now we have over 600 employees," says Peters. "Cando was built on good people, and it's grown to be a lot of good people."
After almost 40 years of being a leader and advocating for Cando, Harry is retiring in March 2018.
"In his time at Cando he contributed training, direction, mindset and attitude," says Hammond. "Huge attributes — maybe one in 500 leaders that will have those characteristics."
In the time leading up to his retirement, Peters says he's taught the new era of Cando-ers that same set of ethics.
"I've learned to slow down and be a mentor. We have some great kids coming up and it makes me proud to know they'll be managers and supervisors in a few years," says Peters. "It's exciting to see them being fulfilled by this."
"He's a got a great knowledge of mechanics and processes and he has always been very good with mentoring younger people," says Jim Brannan, who was Cando's VP of engineering and track services before he retired in 2017. Brannan worked with Peters for 16 years.
Hammond agrees that Harry excels at passing what he knows on, and says that he "doesn't teach from a silver tower, he teaches from experience."
Reflecting back, Harry says the industry is always changing, but he's learned that some things about the business never change.
"I would say about 80 per cent of the work we receive is relationship oriented. It's not necessarily always about price — it is about doing a sound job for what you are charging, and about ethics."
Harry says he's looking forward to doing a lot of hunting, golfing, fishing and travelling in his new camper, or as he put it, "slowing things up a bit."
"I won't miss the calls at 11 pm on a Sunday telling me something has happened and we need to respond," says Peters. "I have a wife, kids and grandkids and I'm looking forward to spending more time with them."