Published on: June 4, 2018
New system improves internal communications, transparency and access to best practices company-wide
Cando's TrackSmart program launched internally April 2017 and established the company's vision of enhancing safety training and improving the sharing of safety information and practices at every location.
As a component of the TrackSmart commitment, in January 2017 Cando set out to custom build an internal Safety Centre online platform that makes the company's inputting and reporting processes digital.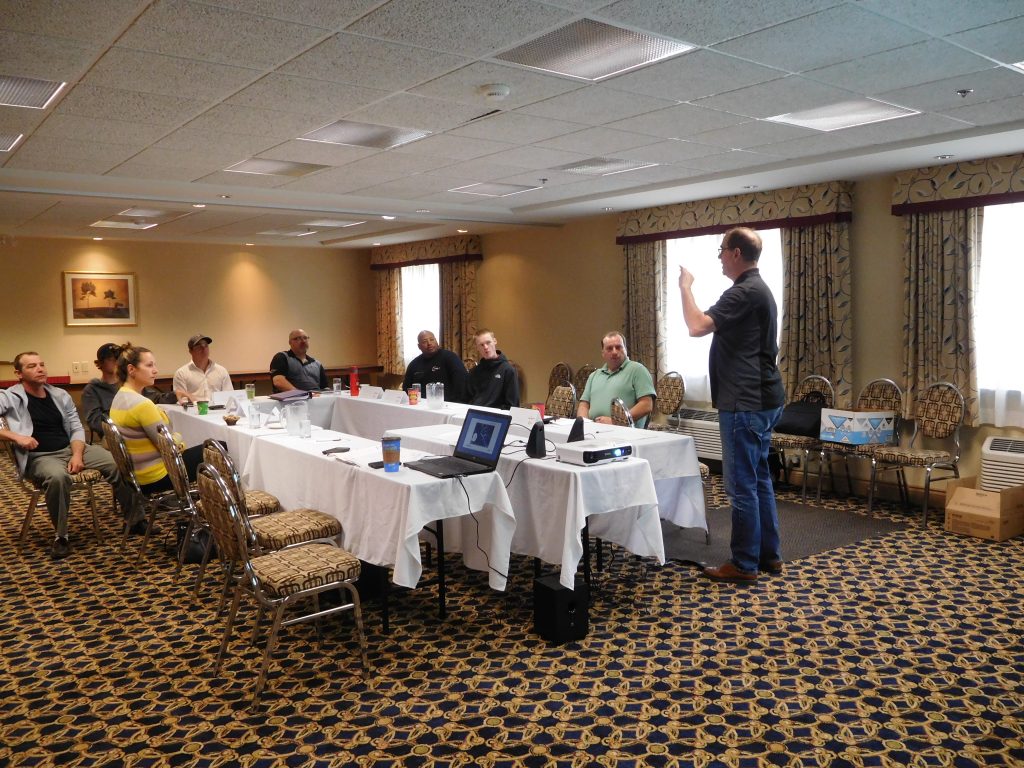 COMING TOGETHER TO CREATE A NEW SYSTEM
The leadership team at Cando brought together the Informational Technology (IT) and Safety departments to collaboratively build software that was relevant to the entire company. Ensuring that the needs of train operations, transload operations, mechanical duties and engineering projects were represented within the customized software was paramount.
While the new platform has been hugely beneficial for the company since its launch, it wasn't without a lot of training and preparation.
Supervisors had to learn how to use the new software and the new coding structure for everything they wanted to input. In addition to training core users, all employees had an opportunity to learn about the Cando Safety Centre from Safety Department representatives through the Safety Education Program Initiative.
The initiative introduced the new way workplace activities would be tracked, and showed employees how the Cando Safety Department would be using that information to keep them safe.
Lisa Smith, a Safety Officer at Cando, says the corporate Safety Team knew it was going to be a massive culture change so they did everything possible to make it a smooth transition.
"The supervisors in the field are absolutely resilient. We held focus groups to get their input on the interface, the IT department did webinars, we provided job aids and made sure everybody could confidently use the platform," says Smith.
Smith says the day they shut off the old system they were confident they had prepared everyone, but were still anxious.
"After three days went by and nobody had called we knew it was a good sign that people had quickly bought into the benefits," says Smith.
ROLLING OUT THE SYSTEM
All the company's incidents, training records, tracking activities, efficiency tests and employee records had always been completed on paper or input into spreadsheets. Because of the nature of reporting, writing out results could be time-consuming.
"There were about 5,000 tracking activities completed company-wide last year," says Smith. "How do we track what's trending out of 5,000 pieces of paper? It slowed us down when it came to providing information to address potential issues."
Efficiency tests are behavioral-based observations of safety performance and processes. Essentially, a manager or supervisor would watch an employee perform a task for a short period of time and provide feedback or guidance, then record all the details for a report.
The new system launched on Sept. 1, 2017. The Cando Safety Centre allows supervisors to input information into the software on desktop or in a mobile app; This enables access to information from any job site without the need to fax stacks of paper or email updated spreadsheets.
"When we had a large incident before it could take up to an entire day to fill out all the paperwork, but now the same thing would take five minutes and a quick push of a button," says Tyson Stelter, an Operations Supervisor at the Tundra Energy Marketing Limited oil terminal in Cromer, Manitoba. Stelter is one of over 100 Cando employees trained on the new system and uses it on a daily basis in his role.
PAPER PROCESSES TO DESKTOP AND MOBILE APPS
Changing over to a digital system makes things easier for people in the field, and allows the Cando safety team to analyze all the data company-wide and make informed decisions about how they can proactively prevent incidents from happening.
Smith says they are able to look at factors such as time of day, weather and human factors. They will then cross-reference them with what time of day efficiency testing is done to see if there's a correlation and flag it for the manager on-site.
"We are able to link near misses and incidents with when observations are done with a click of a button through reporting functions," says Smith. "Through the analysis of specific common data across the company, and sometimes even exact locations; we can bring the right people to the table to discuss proactive actions before an incident occurs."
In addition to allowing Cando's corporate safety team to see things more clearly at a macro level, turning to a digital system with notifications helps people like Stelter stay on top of his tasks. Before, it was something he had to manage himself with a system he developed on his own.
"I have a minimum of 30 tests a month, across seven different categories — that's a lot to remember," says Stelter. "One of the tools I use most are the employee profiles because I can quickly access past efficiency testing, any incidents they may have been involved in, their training history and so forth."
TRANSPARENCY AND SAFETY TOGETHER
TrackSmart is all about establishing an even stronger safety and learning culture within Cando, and the Cando Safety Centre system clearly contributes to that.
"We have complete visibility because of ease of use. Everyone is accountable, and it makes us more credible as a company," says Smith.
Everyone internally has the information at their fingertips, and the company has taken advantage of this opportunity. Company-wide emails go out daily, weekly and monthly, with details of incidents, near misses, training requirements and safety insights to help everyone learn from each other.
"Nothing is missed. We cover all the rules, keep up with corporate standards and everyone on all the separate sites are all on the same page," says Stelter. "It goes right to the top."
Transparency and ease of access to integral safety information means everyone — from Brian Cornick, the CEO of Cando, to Stelter and his peers — at Cando feels accountable for safety.
——
Want to work for a company that values safety and innovation? Please visit our careers page to see our current openings: https://www.candorail.com/current-openings/